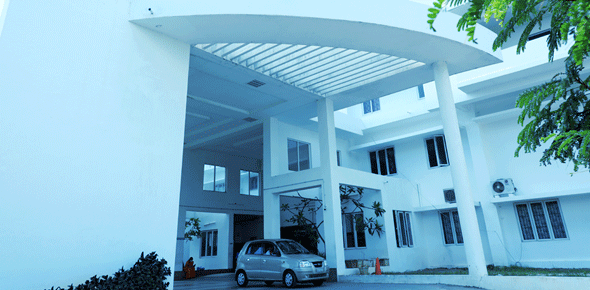 Dhanalakshmi Srinivasan Medical College And Hospital
Dhanalakshmi Srinivasan Medical College And Hospital is a state of the art medical school, situated across sprawling 100 acres of land located at the national high way (NH45 Trichy – Chennai high way) at Siruvachur, Perambalur District, with a buildup area of 12 lakhs square feet.
We provide charity medical services to the rural population in and around major districts like Tiruchirapalli, Perambalur, Ariyalur and Cuddalore under the aegis of Srinivasan Charitable & Educational Trust which has been in the field of education for more than a decadeOur institute is affiliated to the Tamilnadu Dr. M.G.R. Medical University, Chennai and our annual intake of MBBS students is 150 through merit basis. The first batch of MBBS students started the medical carrier in 2011 with the grit to serve the patients. We received the status recognition of MBBS degree from Medical Council of India during the academic year 2016-2017. Apart from medical college, we have GNM, BSc and MSc nursing courses and from this year we are providing B. Pharmacy and D. Pharmacy courses.Our hospital functions with our hospital functions with 1300 beds which include 1210 teaching beds , 157 Intensive Care Beds and 140 accessory beds 24/7 functioning Blood bank with component separation facility, accident and emergency critical care, well equipped central clinical lab fortified with other departments of General Medicine, General Surgery, Orthopedics, Obstetrics and Gynecology, Pediatrics, Ophthalmology, Chest & TB, Skin & VD, ENT, Psychiatry and Dentistry. The super specialty departments include Nephrology with Dialysis wing, Urology with Renal Transplantation Unit, Cardiology with Interventional and Cardio thoracic surgery, Surgical Oncology, Neurology with Neurosurgery and poly trauma wing functioning under guidance and supervision of eminent faculties round the clock.
To be a premier Medical Institute in South India, offering world class medical service and education to mould the Medical student into a dedicated doctor.
Dhanalakshmi Srinivasan Medical College and Hospital, Siruvachur, Perambalur, Tamilnadu is a teaching Hospital providing quality of Health care & Medicaments. Our aim is to educate, to improve the health, and Life Expectancy. And also to maintain healthier and safer environment.Dhanalakshmi Srinivasan Medical College and Hospitlal is always adopting New Technologies with long accepted notions. To keep abreast of this service, we are committed to provide total Patient Satisfaction .This is being carried out by the dedicated, well qualified and highly motivated team of medical and paramedical staff. We wish to become the leader among the teaching hospitals in India.
@ Copyright 2022 Dhanalakshmi Srinivasan Medical College And Hospital